Puerto Vallarta General Info
Introduction
Living in or visiting any new city, especially a foreign one, can be a bit overwhelming at first as you work to get your bearings. We have compiled some helpful information on Vallarta in general, to help minimize the stress involved.
History

Puerto Vallarta is a new city by the standards of Mexico - only about 150 years old. Initially called Los Peines, an earlier name for the Los Arcos Islands nearby, Vallarta was founded as a port for gold, copper and silver mined in the mountain village of Cuale nearby. Shipped back to the mines was salt, extracted from the Tres Mariettas Islands about 25 miles offshore.
Due to the extreme depth of the bay, it never was really useful as a sea port like Acapulco was. Another factor working against Vallarta then too, was the rugged terrain that made for a very difficult trip overland to any major city. These features (remoteness due to the mountains and an extraordinarily deep bay), though, combine to make Vallarta the excellent resort location it is today.
Since Vallarta was founded after Mexico's colonial period, the architecture prevailing in the town simply doesn't rival the splendor of the colonial silver towns found far inland. Instead, Vallarta has a much more modest and quaint style of stucco whitewashed buildings and orange tiled roofs. The streets are simple cobblestone affairs rather than the glorious granite avenues found in the rich colonial towns. It has left Vallarta with a far less ostentatious, but nevertheless beautiful, look.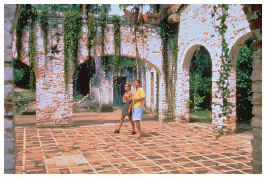 In 1963 when John Huston brought the worlds attention to Vallarta during the filming of the Night of the Iguana, the town was still a very humble fishing village set in a tropical paradise. All that soon changed, as the rich and famous discovered this wonderful place, and notables like John Huston, Liz Taylor and Richard Burton took up residence. Expensive homes now line the hillsides, set in the lush jungle, and modern high rise hotels run in a line along the beach from the town out to the airport. But the original character of Puerto Vallarta, including the cobblestone streets, still exists on the southside of town away from the hotel zone. Today this area is called the Zona Romantica, and this is where you'll find Gay Puerto Vallarta.
Culture
Puerto Vallarta is located in Jalisco, the most conservative State in Mexico. Mexico has a Latin culture, strongly influenced by the predominate Roman Catholic faith. Latin cultures tend to be more circumspect with regard to clothing. Beachwear, such as skimpy thongs, are not appropriate on the street. This isn't the place to try a topless look on the beach either (presuming you're a woman)! It is a tolerant city, but not one that deals well with nudity or demonstrations of homosexual affection in public.
This is the land of the siesta, the notion that the middle of the day is an extended break when many stores and offices are closed. Normally the down time starts around 2 pm and places reopen by 4pm. Government offices many times close for the day at 2pm. You'll find that locals don't eat lunch at noon but during siesta, when the day is hottest.
Areas of Vallarta
Vallarta isn't a particularly large city, but is a narrow area running along miles of coastline. The areas are known as (starting downtown and heading south, then north):
El Centro (or downtown)
Located just north of the river, this is where the large church everyone calls the cathedral (but it's not one), the main square (called the zocalo) and the malecon (boardwalk along the waterfront) are located. While this is not the real center of gay activity, which is nearby to the south, it is where much of Vallarta's straight nightlife is located. There are many shops, restaurants and galleries in this area.
Zona Romantica
Also known as old town or southside, this is the area where mostly all of the gay venues are located. A more bohemian area, with older buildings that have retained much of the old flavor of Vallarta, this area has cobblestone streets, and quite a mix of artists, shops, gays, and locals. Part of the area is zoned for the late night entertainment. Along Basidillo Badillo Street are so many good restaurants that is it known as restaurant row, and along Olas Altas Street therare bookstores and charming cafes with side walk seating.
Conchas Chinas
The mountains immediately south and east of the downtown area limit Vallarta's growth south. These mountains are now home to Vallarta's most expensive area, Conchas Chinas, with multimillion dollar homes up in the jungle mountainside overlooking the bay and the town. Many of the gay accommodations are here and in the area at the waterside below this area very near the gay beach.
Mismaloya
Much further south along the mountainous coastline is the bay Mismaloya, where the movie Night of the Iguana was made. There is a small village up the river here that is somewhat primitive, but the cove itself is lined with very expensive condos, villas and a resort hotel. The remains of the set are still there and can be visited.
Boca de Tomatlan
South of Mismaloya the coastal highway curves around breathtaking cliffside views of the bay, eventually reaching a bay where the Tomatlan river comes out. Boca de Tomatlan is a small Mexican community, not very resorty or touristy, which many people enjoy for is simplicity. This is the last town going south on the bay that can be reached by road. From here on the south coast of the bay is only accessible by boat (or by a determined person with a burro).
Hotel Zone
Going north along the coast from the center of town you'll find a string of huge hotels and resorts, many with names you'll find in most of the world's resort areas, full of families. This is the more modern and plastic side of Vallarta, the place where so many first time gay visitors book themselves only to change (or wish they could) to the gay hotels in the Zona Romantica and Conchas Chinas once they get here.
Marina Vallarta
Just before you get to the airport you'll find the cruise ship terminal (where the Love Boat would dock!) and Marina Vallarta, a large modern yacht marina for about 600 boats. The Marina is lined with condos, shops and restaurants, and is a lovely place, but not particularly gay. In the marina area are several mega resort complexes (Marriott, Westin) and a golf course.
Nuevo Vallarta
Going north past the airport, you cross the state line and enter Nayarit. (Vallarta is in the State of Jalisco). There is a large mega resort development area (without any town) known as Nuevo Vallarta (new Vallarta) which has a strong orientation toward timeshare resorts. These places are nice, but very remote from Vallarta's gay scene ($20 dollar taxi ride).
Bucerias
North of Nuevo Vallarta you'll find the small village of Bucerias on the coast. This unassuming town will likely eventually boom with huge hotels and development, but for now is a small community, generally more affordable than Vallarta. Many retired folks from up north live here during the winter. There are affordable restaurants and several small shops that often have cheaper prices than in Vallarta.
La Cruz de Huanicaxtle
Beyond Bucerias you'll find the small fishing village of La Cruz. This sleepy little town is waking up fast now that the new new highway goes out that way, but La Cruz has a mix of gringo due to the visiting yachts from Canada and the United States that anchor off the beach.
Punta Mita
On the north coast of the bay, the headlands for the bay are called Punta Mita. The original town that was there is now gone, replaced by the new mega-resort by Four Seasons. Unless you're a guest of the resort, you can't get anywhere near this place anymore.
Transportation to, from and in Vallarta
Air Transport
Most visitors arrive via airlines. Puerto Vallarta has a small, but modern airport that is served by several airlines.
International Airport Management Office
Phone: 221-1325

Airport designation: PVR

Aeromexico
Phone: 224-2777 Plaza Genovesa Shopping Center Locals 2 and 3

Mexicana Airlines
Phone: 224-8900 Villa Vallarta Shopping Center local G-18

American Airlines
International Airport 221-1799

Alaska Airlines
International Airport 221-1350

Canadian Airlines
International Airport 221-0736

Continental Airlines
International Airport 221-1025

Delta Airlines
International Airport 221-1032

TAESA
International Airport 221-1531

AEROTRON
International Airport 221-1921

AEROMAR
International Airport 221-0815

America West
International Airport 221-1333
Immigration & Customs
Vallarta, of course, is in a foreign country for most English speaking visitors. This means that you will encounter the officialdom and processes typically found at all international borders.
Upon entering Mexico as a tourist you'll need to have a passport. Tourists generally do not need to prearrange visas, however, if you will be working or are visiting Vallarta for businesses purposes, you'll either need a business visa or special working papers known as FM-3.
On the airplane, they will pass out tourist visa forms, which you fill out and present to the immigrations officer which you will encounter as soon as you leave the plane. His role is to screen out undesirables, but that is only an issue if you have ever been thrown out of Mexico before! The most obvious thing he'll do is stamp your visa form and hand it back to you. DO NOT LOSE THIS DOCUMENT! It proves that you are legally in Mexico (as a tourist). There are fines and problems to face if you don't have one.
Tourist visas can be extended up to six months, at which point you must leave the country or get some other type of visa (since more than six months and it is hard to argue you're a tourist!)
Once through the immigration, you pick up your bags that were checked and head out into the terminal by passing through customs (who just might want to look in those bags!). Mexico has a system that tries to assure fairness in random searches through your luggage. You push a button on what looks like a little traffic light, and if the light goes green, you're done and can leave. But if the light goes red, you get to show the customs officer your frilly underwear!
Ground Transport at the Airport
greet services

airport taxis
Intercity buses
Buses connect Puerto Vallarta to a number of Mexican cities, the buses are a very popular means of transportation out of the city. All major carriers operate out of Puerto Vallarta and provide service to Guadalajara, Mexico City, and all of the major cities of the west coast. Buses to nearby cities leave on a regular basis, while distant cities may require a wait.
Bus Companies

Estrella Blanca
Phone: 011 - 52 - (3) 22 20613

Del Pacifico
Phone: 011 - 52 (3) 22 25622

Primera Plus
Phone 011 - 52 (3) 22 31117

ETN
Phone: 011 - 52 (3) 22 32999

Norte De Sonora
Phone: 011 - 52 (3) 22 21650

Cihuatlan
Phone: 011 (52 (3) 22 23436
Transport Within Vallarta After You're Here
Buses
Although it might be intimidating at first to use, the city buses in Vallarta are inexpensive and efficient. Puerto Vallarta has recently upgraded their buses to EcoFriendly buses. There are a few remaining buses that might look a lot to you like old school buses repainted quite colorfully, they are all in reasonable repair and we have never encountered people moving livestock on them! Buses in town travel in front of Lazaro Cardenas Park and have their destinations and routes written in shoe polish on the front window. Fares are 10 pesos per person (where else can you get a city bus ride for so little). Your ticket does not guarentee a seat and there are no transfers. Most drivers do not speak English nor handle dollars. The bus south toward Mismaloya is 8 pesos.
Taxis
There are over a 1000 taxis licensed in Vallarta. They are all painted the traditional yellow while others are plain white and are safe and reliable. Fares are reasonable and are based on a zone system. There are no meters in Vallarta's taxis. Always ask about the fare before you get in to avoid any problems. There is no surcharge at night nor a charge for extra passengers. Tipping is generally not necessary but is always appreciated, of course. If the taxi driver helps with luggage or packages, you should always tip him. Many taxi drivers can understand a little English, but it never hurts to have your hotel´s name and address written down so you can show him where you are going.
When going to restaurants in taxis, you should know that some restaurants pay taxi drivers a commission for delivering tourists to their location. This can sometime mean you will be told nonsense by a taxi driver like that a restaurant is closed so he can divert you to another one that pays his commission. Be aware this sometime happens and insist on what you want.
Rental cars
While there are several rental companies here we recommend Prestige who are located close to the gay beach and are used by almost all the gay hotels and guesthouses. If you plan to drive you'll need a valid drivers license and some considerable adaptability at driving, as Mexican drivers seem to have a different (almost nil) set of rules on the road. Do be careful! And don't drive at night outside of the city.
If you are up for it, you can get cheap rentals through the timeshare places by agreeing to go to their presentations, however we certainly don't recommend using your valuable vacation time in exchange for a cheaper rental car.
Limousines
Avoiding Problems and Where to Get Help
consulates
American Phone: 222-0069 Fax: 223-0074
Paradise Plaza - Paseo de los Cocoteros #1 - Local #1, Int. #17 - Nuevo Vallarta, Nayarit C.P. 63732

Canadian Phone: 293-0098 Fax: 293-2894
Edificio Obelisco Local 108, Avenida Francisco Medina Ascencio No. 1951, Zona Hotelera Las Glorias. Puerto Vallarta, Jalisco, Mexico. 48300

TOURISM OFFICE
The Mexico Tourism Office can help with most any travel question you may have. The Puerto Vallarta office is located near the main square in the Presidencia Municipal building. The telephone number is:
011 52 (322) 222-0242 or 011 52 (322) 223-0744
ATMs
Vallarta has many banking ATM machines where your bankcard will work. However, there have been a rash of frauds via card cloning linked to ATM machines. One ATM operation in the area (cashola) has been especially vigilant in have the most up to date anti-skimming technology and has excellent bilingual customer support in the event of any problems. Don't bring travelers checks. Almost no one takes them anymore.