Advertise in gay guide Vallarta
Print & Online Advertisement rates
We are not travel agents and do not charge commissions. Gay Guide Vallarta was conceived to help reduce commission charges for your business. We do not get involved in the reservation process, securing deposits, etc. Your listing leads to a website page of your choice somewhere on the internet where the customer typically will make the reservation and find additional information!
Free:
Free listing: All LGBTQ+ businesses (bars, shops, tours, etc) get free listings on the website, so long as they are gay (LGBTQ+ owned) businesses. "Free Listings" consist of Name and Logo in the corresponding category and map location on gay Vallarta's online map. Includes name listed in print guidebook.
Basic (online):
Yearly fee of $6,000 pesos. Payment is due before the listing is live on our website. If you have multiple listings, contact us so that we may offer you a better quota. Free with print ad.
Cabaret & Theatre listings: $8,400 pesos a year.
Updates are made once a week to match your calendar online. Free with print ad.
Detailed Listing: Includes Name and Logo, Short and Long Descriptions, Links to sites, flyer, Images, Map, Events Calendar and space for Menu Images (restaurants and services). Includes a dot on the map and a small blurb in the corresponding section in our print guidebook.
Standard:
Includes all the basic plan, print ad of your choice, 2 courtesy banners displayed randomly on our website. (See print ad rates below)
Premium:
Includes standard plan, premium print ad of your choice, Logo printed with blurb, & (only for inner & back covers and full-page map ad) 2 images under blurb. (See print ad rates below)
Prices 2022/2023 Season
Gay Guide Vallarta Print Guidebook
| | | | | |
| --- | --- | --- | --- | --- |
| Ad Sizes | B&W | Color | Map | Premium |
| 1/4 Page | $1, 600.00 | $2, 150.00 | $2, 850.00 | N/A |
| 1/2 Page | $2, 350.00 | $3, 250.00 | N/A | N/A |
| Full Page | $4, 150.00 | $5, 750.00 | $12, 200.00 | N/A |
| Bleed Page | $4,350.00 | $6,150.00 | N/A | $7,150.00 |
| Inner Cover | N/A | N/A | N/A | $7,650.00 |
| Back Cover | N/A | N/A | N/A | $12,200.00 |
NOTE: prices are in pesos, per edition and include IVA. (prices subject to change) Ask about our Pre-pay and multipage discounts.
**Blurb Add-on:
Add your logo and/or images to your business blurb.
Logo $100 pesos / edition
Image $50 pesos / edition per image.
More Advertising Info (Adobe PDF)
Specifications for Full Page with Bleed
---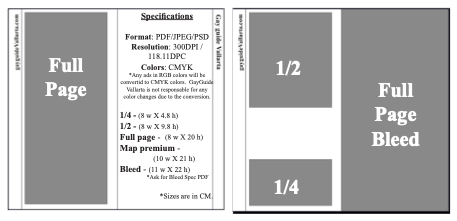 ---
4 editions with 48,000 copies a year, 12,000 copies per edition. They are distributed with major focus in Zona Romantica. 1,400 copies distributed weekly during high season, & 700 copies weekly distribution during the summer. It is very popular and requested by LGBTQ and Ally visitors.
We are welcomed in many locations in Centro/Malecón, Zona Hotelera & Marina Vallarta. This assures your ad will be at the hands of guest that are staying outside of the gay zone.
Advertising Deadlines for print editions
There are four editions per year. They start in October, and are two months apart. The last one of the season is the summer edition, which goes out in April. We deliver guides to all the local hotels and gay businesses every week year round.
| Edition | Distributed | Art Deadline | Reservation Deadline |
| --- | --- | --- | --- |
| Fall Edition | October - November | 1 Sept | 28 Aug |
| Winter Edition | December - January | 1 Nov | 28 Oct |
| Spring Edition | February - March | 1 Jan | 28 Dec |
| Summer Edition | April - Sept | 1 Mar | 28 Feb |
Online Banners
Exclusive horizontal banner placement on top of category pages.
Subject to availability, Price p/month, includes IVA
Home page - $2,187.50
Category page - $1,000
---

---
Lodging Oriented Business Listings
Charges for website listings for lodging oriented businesses are based on the type of business. From single unit listings of condos, to rental and travel agencies, we provide an affordable listing program for your business.
Single unit lodging listing (examples: single condo, villa) $6,000 Pesos a year.
Property listing on the condo or villa page with a single rentable unit on the property. Condos will be grouped with other condos in the same building. If the single unit is LGBTQ+ owned, it will also be listed on the gay lodging page.
Multi-unit single location (examples: b&b, guest house, hotel, etc) $12,500 pesos/yr (NOTE: price for Gay Guide Vallarta paper guide advertisers is discounted to $5,000 pesos/yr)
Creates a single property listing on the hotel, budget or resort page. The property can contain an unlimited number of rooms or room types and rate periods. Gay owned or oriented properties are also listed on the gay Lodging page.
Multi-unit, multi-location (examples: travel agent, rental agency) $25,000 pesos/yr (NOTE: price for Gay Guide Vallarta paper guide advertisers is discounted to $7,500 pesos/yr
Creates an agency style account that can have multiple properties. Each property listing can have multiple room types and rate period dates independently of the other properties in the agency portfolio. Agencies are not permitted to duplicate listings made by the property owner or manager directly with Gay Guide Vallarta. (i.e. an agency cannot list THE JOE BLOW HOTEL in our database if THE JOE BLOW HOTEL has their own direct listing. Same for a condo owner that lists with an agency and directly with us.) Agency listings are not on the gay page unless paid separately as above.
WEBSITE Listings are usually billed annually on the anniversary of the listing.