Puerto Vallarta Walking Adventures
Offering walking adventures in the greater Puerto Vallarta area where every step is an invitation to discover the genuine essence of Mexico.
Gay, Gay Owned, Gay Staff, Mixed Clientele, Straight Friendly, 30 somethings, Martinis, Older
---
Prepare to break free from the confines of the touristy hubs as we take you on extraordinary walking escapades, introducing you to the heart and soul of authentic Mexico. Our daytime adventures span a leisurely 6-8 hours, allowing you to immerse yourself fully in the vibrant tapestry of the locale. For our evening tours, we offer enchanting three-hour sojourns, providing the perfect blend of education, relaxation, and exploration.
At Puerto Vallarta Walking Adventures, we are firm believers in embracing the art of experiential exploration, where walking, exercising, and venturing are elevated to an unrivaled level of significance compared to mere "touring" and "sightseeing." Unlike conventional walking tours that confine you to the typical tourist hotspots, limiting your journey to just a few blocks, we have meticulously designed our adventures to strike the perfect balance between invigorating physical activity and an extensive coverage of the most captivating destinations.
Walk into a world where our curated trips unfold beyond the monotonous recitation of historical facts and figures. Our sensible and youthful trip leaders eschew the mundane and focus on delivering valuable insights into the contemporary purpose and cultural significance of sites we encounter. Rather than inundating you with dates of construction for instance, we illuminate the present-day relevance, enriching your experience with a profound understanding of their importance.
Remember our motto: "Don't Just Tour, Adventure!"
Join Us!!
Our Trips include:
Gay Bar Tour
El Centro Bar Tour
Taco Learning and Eating Adventure
Waterfall Hike
Boca, Playa Colomitos, & Las Animas Hike
Yelapa Discovery Hike
Sayulita & San Pancho Discovery Walk
Historic Heart of PV Walking Tour
Vallarta Botanical Gardens Hike
Pitillal Discovery Hike
El Tuito Discovery Hike
We also have some one time hikes and speciality hikes such as a Day of the Dead discovery walk and a free monthly trash cleanup hike.
---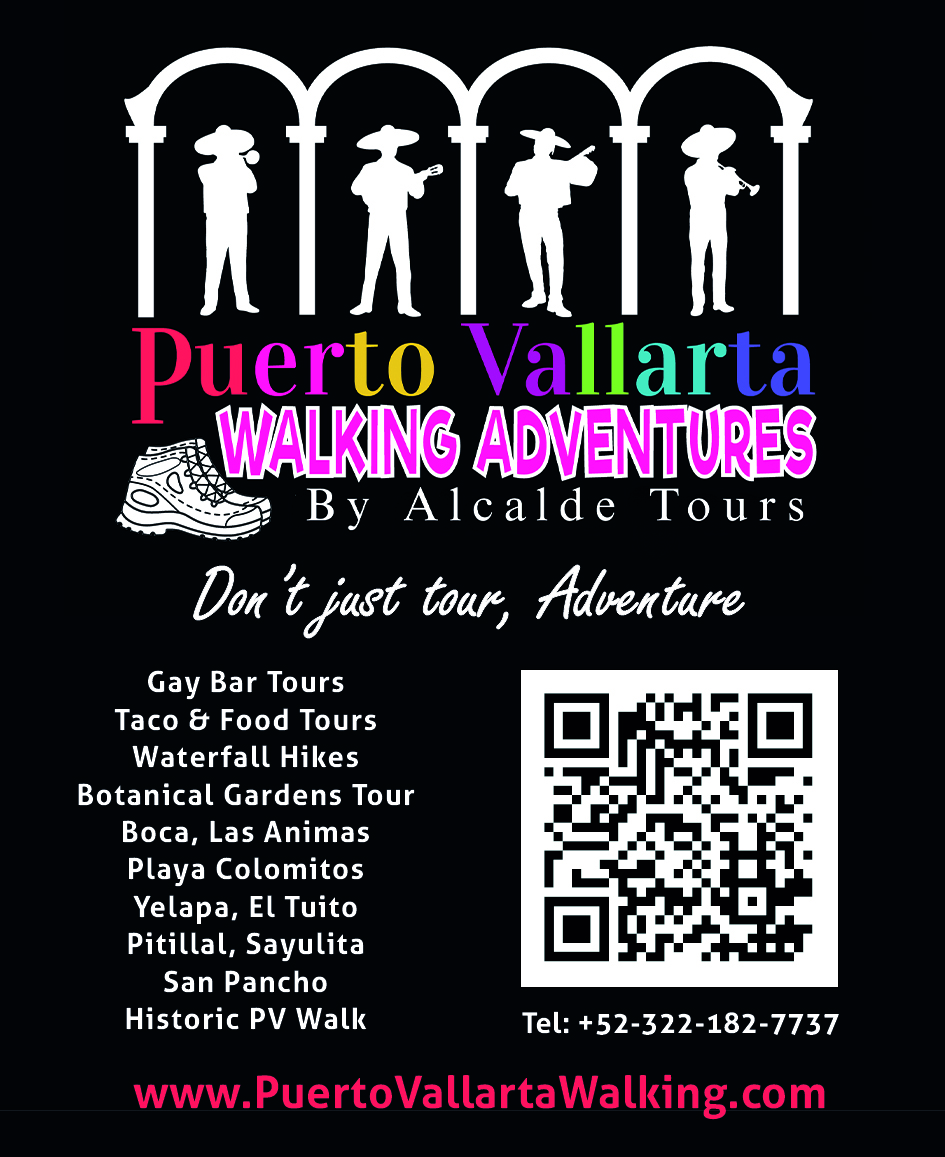 Events List
---

Check out the str8 bar Puerto vallarta has to offer every Wednesday at 8pm. Meeting point is Plaza de las Armas in front of the presidency.
Every Wednesday @ Plaza de las armas
More Info